Posted November 17, 2010 |
Laura Christianson
This is Part 9 in a 12-part e-course about the types of blog articles.
Q & A
In Session 8 of this course, you learned how to write a Profile Article, in which you paint a word picture of some aspect of an interesting person's life.
Profiles are often packaged in a Question and Answer (Q & A) format on blogs because:
1.  They're easy to write.
Q & A includes a brief narrative introduction and the rest of the article reads like a transcription. No transitions between paragraphs are needed.
2.  They're easy to read.
I recommend double spacing between questions and answers. This creates white space (breathing space) within your blog article, and makes it easy for people to skim and pinpoint questions they're most interested in.
You can format your Q & A various ways:
Q. Question goes here.
A. Answer goes here.
OR
Laura Christianson: Question goes here. I write out the full name of the interviewer and interviewee on the first question only. After that, I use initials – in this case, LC:
Name of interviewee: Answer goes here.
3.  They're versatile.
You can write a Q & A about virtually any topic. I recently spotted a Q & A that debated the issue of paper towels vs. hand towels in home bathrooms.  The writer did a Q & A with himself, asking typical questions consumers have about this issue responding to his own questions. Clever!
(In case you're wondering, paper vs. cloth is currently a hot-button issue; many consumers wonder whether the potential health benefits from using paper towels justifies the cost, resource consumption, and waste.)
Q & A is the primary format that authors, recording artists and other creative types use when going on virtual tours. The artist (or a PR pro) typically crafts several permutations of a canned interview as a Q & A. When a blogger requests an interview, all the artist has to do is e-mail them the Q & A.
CRAFTING THE Q



When composing questions for a Q & A, avoid yes or no questions. Ask open-ended questions that invite creative responses.
The following questions were suggested during a writers' conference workshop taught by Holly Miller, co-author of Feature and Magazine Writing and a former senior editor for the Saturday Evening Post: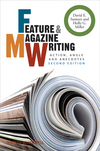 If you could change one thing about yourself, what would it be?
If you were writing your life story, what part would you like to leave out?
What's the biggest mistake you almost made?
If someone was making a movie about your life, who would you want to play you?
Describe your perfect day.
What gives you the most pleasure?
What's your favorite fantasy?
If you suddenly came into a $10 million inheritance and had to spend it on yourself, what would you buy?
Who are your heroes?
What do you like/dislike most about yourself?
YOUR ASSIGNMENT
Do a Q & A with yourself. (I know; it sounds narcissistic, but it's good practice.) What questions do people ask you most often about your industry/book/ministry/niche? List at least 10 questions.
Answer your own questions, clearly and succinctly.
Review your answers. Ruthlessly cut words until each answer packs a punch.
Find two bloggers in your niche and ask them if they'd be interested in featuring a Q & A interview with you. Contact the bloggers, and be sure to tell them that you have a ready-made Q & A for them. (Bloggers love it when you make their job easy.)
In the Comments area, share your favorite Question and Answer so we can learn something interesting about YOU.
Coming next:
Previously in this Series:
9 responses to "How to Write a Q & A (E-Course Part 9)"