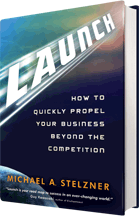 I have been selected as one of 50 bloggers worldwide to review Michael A. Stelzner's upcoming book, Launch: How to Quickly Propel Your Business Beyond the Competition
.
Part of my assignment is to think of a way to "creatively give away a copy" of the book to one of my followers. I thought I'd have fun with this and host a pre-giveaway contest.
I'll be receiving two copies of the book: one to review and one to give away. After I review Launch, I'll give away my review copy to whoever can help me come up with the most ingenious way to creatively give away my giveaway copy!
To enter my pre-giveaway contest, submit your great idea in the Comments area of this post.
(If you're reading this post via e-mail subscription, the link to the post/comments is http://www.bloggingbistro.com/?p=8095)
Related Articles We Think You'll Enjoy